Fast File Encryptor v.11.12 (December 05, 2023)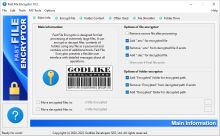 Fast File Encryptor

is MS Windows compatible software designed for fast processing of extremely large files. It can encrypt and decrypt files, contents of folders using any file as a password. Fast File Encryptor contains a lot of additional tools and presents a flexible user interface with detailed messages about all operations. Fast File Encryptor compatible with ArmorTools software.
System requirements:
Operating system: MS Windows 11/10/8.1/8/7/VISTA x86 x64
Minimum screen resolution: 1024x768
32 MB free disk space
256 MB RAM
Size: 2 MB
ArmorTools Home v.23.12.1 (December 03, 2023)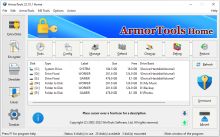 ArmorTools Home

is a set of tools that expands the capabilities of the MS Windows operating system in the field of security and protection of user confidential information. ArmorTools allows you to create secure virtual disks encrypted using AES128/AES256 algorithms, encrypt files and folder contents using any file as a password. ArmorTools removes traces of the user's work on the computer, clears the history of visiting sites, deletes confidential information without the possibility of recovery. ArmorTools is an extended version of the Fast File Encryptor.
System requirements:
Operating system: MS Windows 11/10/8.1/8/7/VISTA x86 x64
Minimum screen resolution: 1024x768
32 MB free disk space
256 MB RAM
Size: 2 MB